Track 04: Face The Beast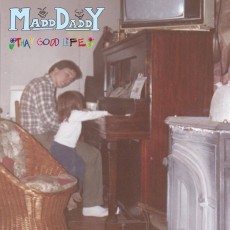 Dimensions:
0.00cm x 0.00cm x 0.00cm
Face the Beast
by Maddy Walsh and Ted Walsh
every time i step outside there's a garbage truck splashing mud in my eyes
every time i take a ride there's a tack in the road pointed up to pop my tire
i try to be so kind to the lady at the service station
she's got a beef with me cause i always forget my identification
(oh fuck it; i shouldn't drink on a tuesday anyway)
CHORUS
keep your heart scraped clean, don't hide under a protective screen
the world it may get ugly but, to feel a thing you've got to face the beast
cross three lanes and i make the exit to a sustained horn of a top-down midlife crisis
as he passes he flips me the bird, i think he might have been my middle school principal
i try to keep in mind that his day could be going much worse than mine
he could have a history of denied insurance claims and cheating wives
(probably not; he's probably just an asshole)
CHORUS
BRIDGE
oh i know all about the fall and rise
i could not get so high
if high is where i spent all of my time
hi-fi is especially high when juxtaposed (with shitty lo-fi?)
so in the interest of keeping the faith like a labrador i bring the ball back into play
drop it panting at the feet of a face twisted up in a scowl, two cynical eyebrows raised
please throw the ball for me, i've been striking out all over town, you see
the beast said i don't like dogs, you're a total mess but you seem kind of sweet
(and then we just, like, played, all afternoon.  it was really nice.)
CHORUS (X2)
There are no reviews for this product.